About me
I'm currently a doctoral student in the Department of Psychological Sciences at the University of Connecticut. My PhD concentration is Ecological Psychology—the study of biological perception, action, and cognition from the fundamental assumption of organism-environment mutuality. I am a graduate research assistant in the dyscord lab, advised by Dr. Alexandra Paxton. Additionally, I am a member of the Center for the Ecological Study of Perception and Action and the Social-Ecological & Environmental Lab.
Research Interests
I use nonlinear methods to study interpersonal dynamics, with an interest in group synchrony and social connectedness. My work explores how synchronizing with others impacts physiological and self-reported health outcomes in various settings.

Currently, I study this in the context of yoga and mindfulness practices. As a graduate affiliate of the Experimental Anthropology Lab, I also led a related research project in Mauritius in 2022. There, we collected self-reported and physiological data during religious rituals.

Overall, I believe it is essential that I ground my scientific questions and findings in the local community. Through my research, I aim to advocate for more widely accessible group yoga and mindfulness interventions in order to bolster social connectivity and improve wellbeing.
Personal Interests
My most joyous and fulfilling moments often occur while I'm practicing and teaching yoga, running outdoors, going to the gym, making music, and connecting with people. I completed 200 hours of yoga teacher training in 2018. Since then, I have taught yoga in a variety of settings, including at the beach, fitness centers, yoga studios, and virtually. As a yoga teacher and more broadly as an educator, I have a passion for inspiring people to learn and evolve.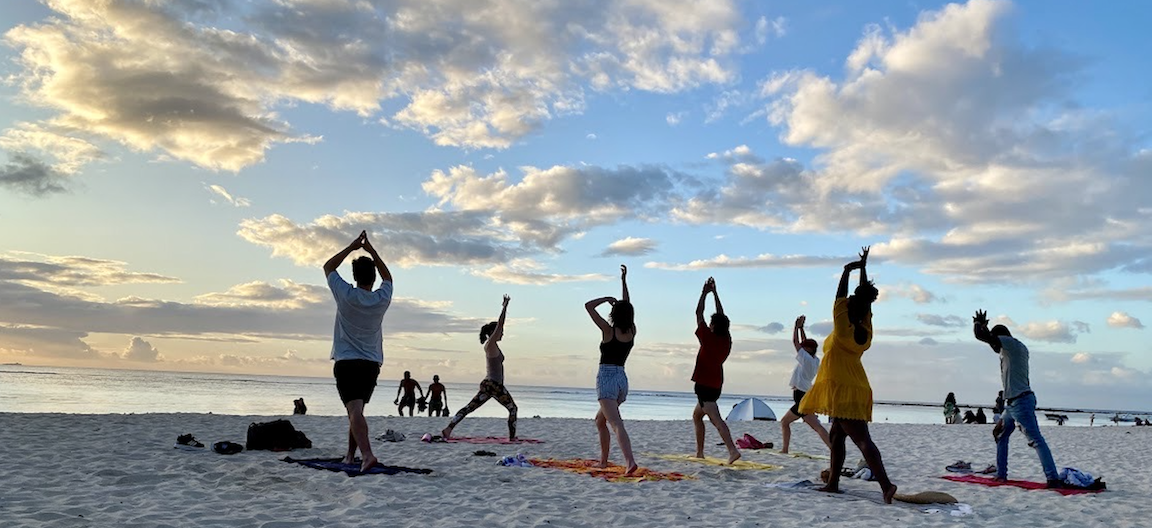 Photo of Caitrín leading complimentary sunset beach yoga in Flic en Flac, Mauritius in July 2022.